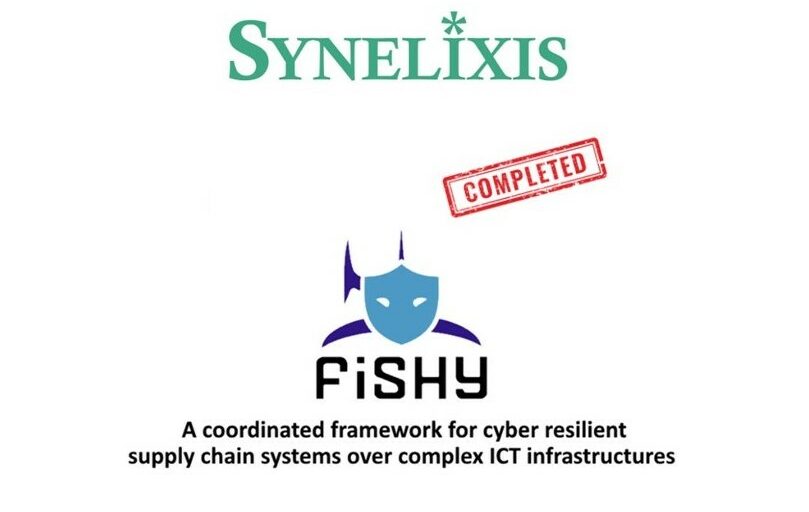 The FISHY project is completed
After three years of intensive work, from September 2020 until the finalization of the project in 2023, we are proud to announce that FISHY project is completed!
FISHY project (A coordinated framework for cyber resilient supply chain systems over complex ICT infrastructures) designed, developed, validated, and demonstrated a coordinated framework for cyber resilience provisioning to guarantee a trusted supply chain of ICT systems, built upon distributed, dynamic, and often fundamentally insecure and heterogeneous ICT infrastructures.
SYNELIXIS contributed to the design and development of FISHY cybersecurity platform anticipating to protect the modern supply chains. Furthermore, we validated FISHY benefits in the farm to fork supply chain and assessed the security benefits of FISHY for protecting the SOFIE platform. SOFIE platform is a blockchain-based farm-to-fork platform that gathers information from the farm through SynField smart agriculture devices, developed by SYNELIXIS, to the warehouse till the supermarkets to deliver them to the consumers.
SYNELIXIS unwavering dedication to innovation is not only evident in our commitment to research and development but also in our ability to effectively harness the outcomes of such projects. By continuously investing in forward-thinking projects, we position ourselves to leverage the latest advancements, ensuring that we remain adaptable and competitive in an ever-changing business landscape. This commitment to innovation is at the core of our success, enabling us to deliver cutting-edge solutions, product and services.