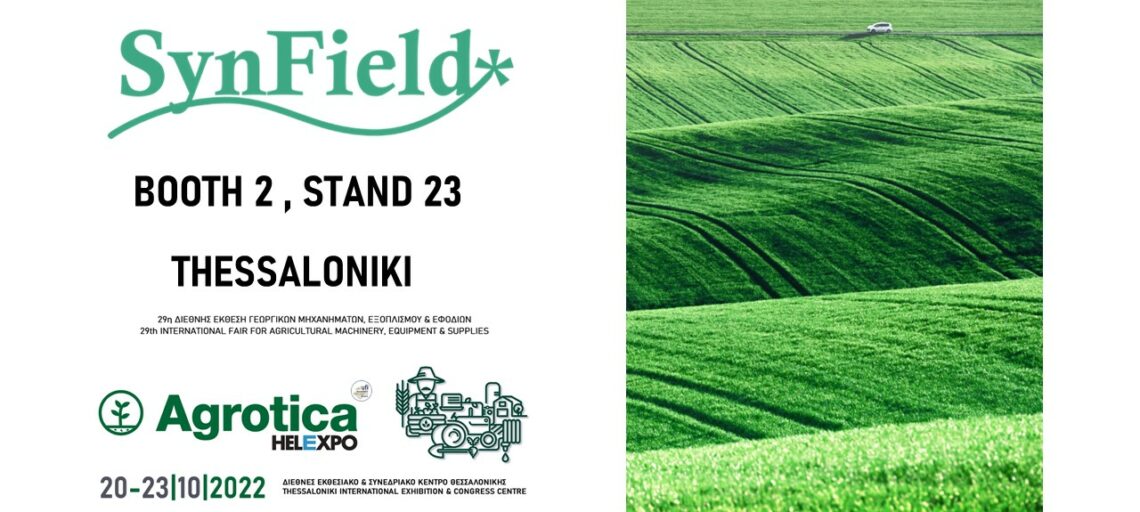 SynField at Agrotica 2022 International Exhibition
Synelixis and SynField will be present to another consecutive Agrotica exhibition. Meet us at Booth 2 – Stand 23.The 29th International exhibition of agricultural machinery, equipment, and supplies AGROTICA 2022 will take place at the International Exhibition & Conference Center of Thessaloniki from 20 to 23 of October 2022.
At this key meeting point for the agricultural industry and the agricultural economy, Synelixis will present all new SynField smart agriculture solutions and products such as X5 and SynOdos as well as the innovative SynPump solution for managing shared boreholes in rural areas. With great pleasure, we await visitors, friends, and partners at our specially designed custom stand, on the ground floor of booth 2, of the AGROTICA exhibition in Thessaloniki.
2022 is a pivotal year for the company as it celebrates 15 creative years of operation, with significant achievements and successes in Greece and abroad. Synelixis is grateful for the trust in SynField precision agriculture products and services and proud for contributing to the digital transformation of the agricultural sector. SynField's integrated solutions are applied by farmers throughout Greece and abroad as well as by municipalities that set as a strategic priority the adoption of modern technologies for saving water and valuable resources (cost reduction). New technologies are here and can act as a driver for sustainable and cost-efficient development of agriculture during these difficult times. You can find out more about SynField's smart agriculture solutions at www.synfield.gr